As Seen In The San Francisco Chronicle Online
New Anti-Aging Skin Care Product Helps Reverse Signs of Aging. All-Natural Product Uses Body's Own Energy To Reduce the Appearance of Wrinkles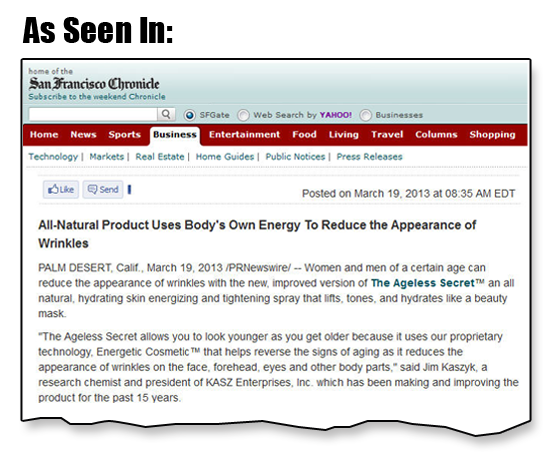 Palm Desert, CA, March 19, 2013 – Women and men of a certain age can reduce the appearance of wrinkles with the new, improved version of The Ageless Secret ™an all natural, hydrating skin energizing and tightening spray that lifts, tones, and hydrates like a beauty mask.
"The Ageless Secret allows you to look younger as you get older because it uses our proprietary technology, Energetic CosmeticTM that helps reverse the signs of aging as it reduces the appearance of wrinkles on the face, forehead, eyes and other body parts," said Jim Kaszyk, a research chemist and president of KASZ Enterprises, Inc. which has been making and improving the product for the past 15 years.
"The Ageless Secret is a low-cost reverse-aging skin care product alternative to expensive facial procedures like surgery and specialized spa treatments," he said. "There is no pain, no down time and no side effects. The anti-wrinkle spray has a special energy that may help hydrate and revitalize skin stem cells."
The beauty product supports the body's built-in skin renewal system, which replaces skin cells on hands every 24 hours and on the face every 28 days.
"It is our job to make those new skin cells look the very best we can. With regular daily use you will see your skin's appearance improve. It produces a temporary skin tightening and improvement in skin elasticity. Skin regenerates from within, so it helps your body make those cells the best they can be."
The Ageless Secret boosts the electrical energy of the skin, revitalizes the water within, restores luster and smoothness and immediately improves skin elasticity by up to 50%.
The science behind the product is based on the research of Dr. Harold Saxton Burr of Yale and which was documented on a PBS video, "American Health Journal: Discoveries In Alternative Medicine."
The William A. Tiller Research Institute, an independent lab, verified that the product infused the water with energy. To read more about the science and technology behind the product, go here.
To find out how to reduce the effects of aging, the company offers a free ebook, called, "Ageless Secrets: Did You Know that You Are Not Supposed to Look Older as You Age?" at Ageless Secret eBook
The Ageless Secret is made with purified water, trace minerals and aloe. It also has MSM which occurs naturally in rainwater and is a rich source of organic sulfur, which the body uses to create new, healthy cells. "Then we put them through a special trade secret process that enhances their potency," he said. Trace minerals are thought to be catalysts essential to promoting essential electrochemical functions in healthy cells.
"The product is so pure and safe you could drink it. Many doctors sell it and endorse it, he said. "Women ask, "How can I remove wrinkles from my eyes, forehead and face? Plastic surgery is one way, but it is expensive and painful. The Ageless Secret presents a less expensive and pain free option with no down time or risk and a natural youthful look.."
Unlike other skin care products, The Ageless Secret is not smelly, sticky or oily. It is a fine mist that can be used under or over make up with no mess. It does not burn or sting eyes. The Ageless Secret can be comfortably used all day to defy the effects of gravity to make people look younger.
It is sold in select health food stores, doctor's clinics, skin care specialists offices, as well as on line and at the company's Southern California Offices.
"I use it. It works," said Dr. Steven Gundry, Palm Springs' longevity guru, thoracic surgeon and best-selling author of "Dr. Gundry's Diet Evolution: Turn Off the Genes That Are Killing You."
"I have been an Ageless Secret GOLD customer for 6 years. I feel this is the most moisturizing and skin tightening skin care product on the market. I love that I can refresh my look often and use it during film shooting," said Olivia D'abo, star of TV's "The Wonder Years" and Broadway shows.
The product includes a full, unconditional money back guarantee.
About Jim Kaszyk, Founder and President of KASZ Enterprises
Jim Kaszyk is a recognized pioneer in the field of chemistry, boasting a successful and decorated scientific career with the U.S. government and major manufacturing companies. Mr. Kaszyk's experience with chemical testing and toxicology combined with years of research in the field of vibrational medicine led to the creation of Catalyst Chemistry, an extraordinary process that increases the energy output of specialized ingredients to enhance their efficiency.