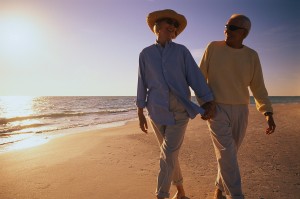 There is a famous experiment that was done at Harvard. Several volunteers who were over the age of 50 were placed in an environment that was like being back in time. The magazines, the surroundings, and the music were from the 50s. They were told to have only discussions that were like when they were in the 50s. After two weeks, amazingly, when aging measurements were made, it was found that they had reversed their age by 10 years. Two weeks after returning to their normal environment they reverted back to their former selves. 
This experiment clearly shows the effect of the mind body connection on the way we look. What no one has been able to understand is why? If we look at the idea of "Happy Water," we have a possible explanation showing that if one can compensate for the effects of stress age reversal may be possible. This may also explain why when people get back from having a great relaxing vacation they look years younger.
Want to know how to do it without going on vacation? Ask me.